RMHC History
Working as a pediatric oncologist at the Children's Hospital of Philadelphia in the 1970s, Dr. Audrey E. Evans saw families spend night after night in the hospital while their children received life-saving medical treatment. She knew there had to be a better way and envisioned a house where families could stay during these stressful and uncertain times.
At the same time, the Philadelphia Eagles were raising funds in support of player Fred Hill, whose daughter, Kim, was in treatment for leukemia at St. Christopher's Hospital for Children. Eagles' General Manager Jimmy Murray approached St. Christopher's about making a donation, Dr. Lawrence Naiman suggested there was an even greater need for funds resting with Dr. Evans. Mr. Murray met Dr. Evans and became a champion for her cause. He reached out to Eagles advertiser, McDonald's, with the idea that they could offer the proceeds from their Shamrock Shake sales to benefit this new house. McDonald's agreed, and the Philadelphia Ronald McDonald House was born on October 15, 1974. Today there are over 375 Ronald McDonald House Programs in 65 countries and regions across the world.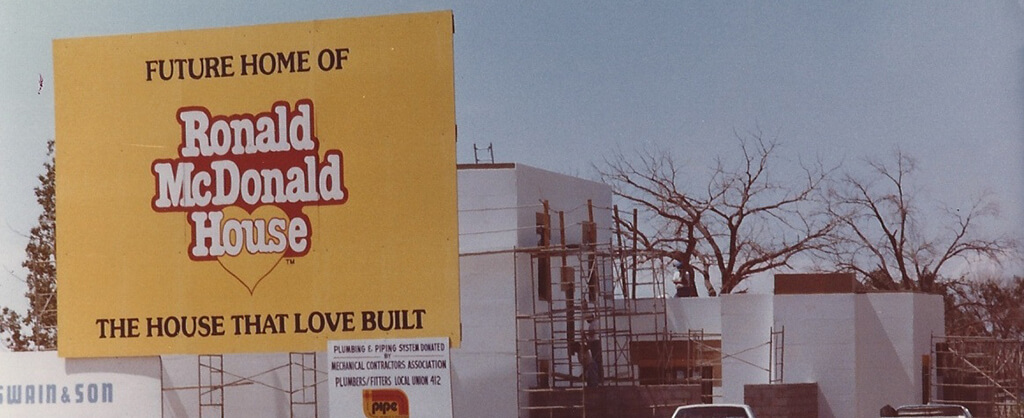 Local History
Our Ronald McDonald House was a vision conceived in 1979 by a collaboration of three Albuquerque hospitals, as well as medical groups, private citizens, and the Junior League of Albuquerque. Seed funding ($25,000) from McDonald's Ray Kroc Fund was just the beginning. The group incorporated and established a volunteer board. The Junior League pledged time and money to build the House. Following extensive real estate searches, a 50-year lease was awarded by the UNM Board of Regents for the present site on UNM North Campus. The Ronald McDonald House on Yale Boulevard opened on October 30, 1982, with eight guest rooms. Eighteen months later, the House was already too small, and plans began to expand to meet the community need for family services. By December 1985, 10 bedrooms, 10 baths, a large living room, two solariums, more laundry space, and another kitchen were added. In March 1996, we began serving the community as Ronald McDonald House Charities of New Mexico (RMHC-NM) with a mission to provide temporary housing to families with ill children. In 2007, we opened the Ronald McDonald Family Room at UNM Children's Hospital, where we provide respite services outside the walls of the Ronald McDonald House. A year later, we completed the latest House expansion, increasing the number of family guestrooms from 18 to 30. The House now has the capacity to provide nearly 11,000 family lodging nights annually. Over the last several years, demand for RMHC-NM's support has increasingly exceeded its capacity, which means more and more families who hope to stay at the House are turned away because it is full. To address this critical need, a second Ronald McDonald House facility, the Highlands House, was opened across the street from Presbyterian Hospital within a Marriot SpringHill Suites Hotel. This first-of-a-kind endeavor provides an additional 20 guest rooms to our lodging program, allowing RMHC-NM to serve an additional 640 families annually.